Three areas I think ipads are wonderful: 1) During face to face interaction
On the field customer interaction such as conversation, surveying, cashiering, etc. Sometimes when I walk into the apple store the front greeter has an ipad to easily access information on simple questions. When talking face to face I think a laptop is too intrusive and the physical space that a tablet demands is much more appropriate than having a "wall-like" barrier in between you and who you're talking to. Especially when you're surveying someone, the silent taps on a tablet is much more preferred over the loud keyboard strokes.
2) Teaching for children
It's not secret that children these days much more enjoy hands-on, colorful, and interactive learning. I've had many opportunities to test the learning apps for the ipad and I think it's brilliant for a young learning environment.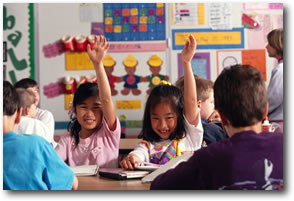 (No it's not an accident I picked a photo with two little asian girls)
THE REST
Other than what I mentioned above, I think you must be a fool to purchase a ipad. A lot of people are switching over to e-reading, which is a revolution that I also am a part of. But I would never purchase an ipad for the sole purpose of reading.
1) The ipad is way too heavy, unless you have a stand or the arm strength of Russian solider your arm will start hating you after the first page.
 Don't you ever wonder why no one in the Apple Ipad commercials are never holding up the ipad? Because it's too darn heavy! It's always seen on the table, stand or lap. I like holding my reading material like I like holding a book, so plan on changing your ergonomics of reading if you plan on getting an ipad.
2) The e-ink on the kindle is much better for reading.
I'm not joking, you can read the usability study here: iPad and Kindle Reading Speeds
3) If you want to be productive on the go, BUY AN ULTRA-THIN BOOK.
Thin laptops are all the rage. I love my MacBook Air and everyone else I know who own ones loves it! Everything from typing, processing, viewing, ANYTHING is better on a laptop. If you can't afford a mac or you're a windows fan, look I made it easy for you not to be an idiot: Ultrabooks
4) What about the ipad mini? It's smaller right?
No thanks. What's something that no one has these days? An attention span. The ipad is very distracting with all the available apps. Think you'll catch up on your emails? Not when you can play all those fun touch screen games! Touching the screen is such a different interaction than a mousepad and a keyboard. Look at how productive people are on their smartphones... facebooking, reading tweets, instagraming, and snap-chatting. And ipad is just a bigger screen for you to playful twiddle your fingers on.
Bottom line: Don't buy a ipad just to have it be a paper weight.